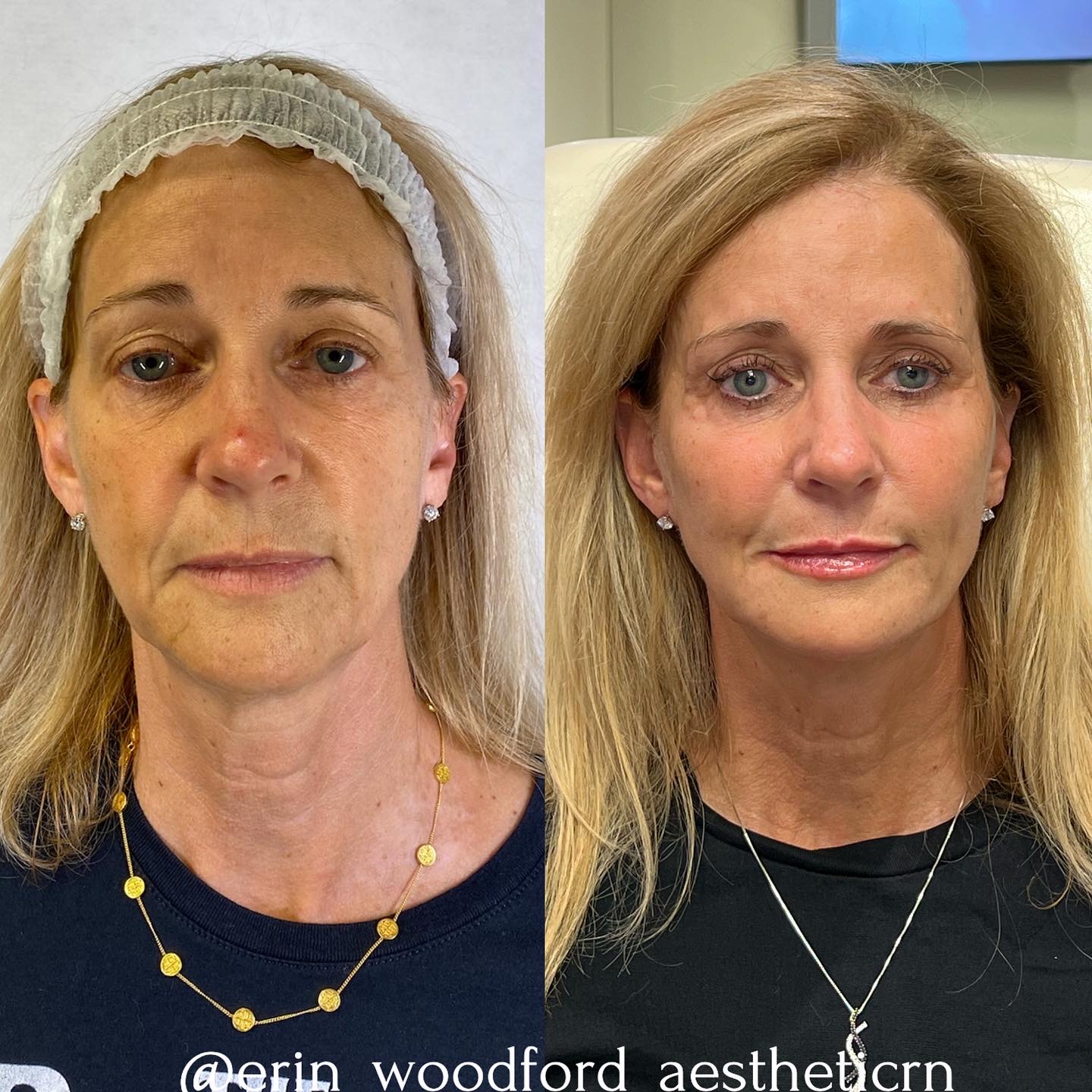 What is a Biostimulator? 
Sculptra Aesthetic is an FDA approved Poly-L-lactic acid product. Poly-L-Lactic is a biocompatible (meaning it is safe to use in the body), biodegradable synthetic substance that has been used for many years in medical devices, such as dissolvable sutures.  FDA approved Poly-L-lactic acid fillers include Sculptra® Aesthetic.  Poly-L-lactic acid products are technically classified as "collagen stimulators" or "biostimulators".Their main mechanism to smooth fine lines through helping your skin rebuild natural collagen by adding volume and strength to the tissue. Sterile water is used as a carrier for the Sculptra particles providing intitial and temporary volume, this soon dissipates and is absorbed within the next few days following treatment. Over the next 6-8 weeks subtle volume and skin smoothing is revealed as collagen is stimulated.  Typically 2-4 treatments are need based on individual goals and starting points.  Poly-L-lactic acid results can last more than 2 years at which point maintenance treatments are recommended.
Calcium hydroxyapatite (CaHA) is a well-established collagen stimulator.  FDA approved CaHA fillers include Radiesse®. In recent years this product has been increasingly used in hyperdiluted form as a biostimulatory agent rather than a volumizing filler to improve skin quality and firmness.  When used in hyperdiluted form (ie, 1.5 mL of product plus ≥1.5 mL of diluent), Radiesse has  minimal volumizing effect allowing it to be injected more superficially for dermal rejuvenation and the treatment of larger areas.  Ideal areas for hyperdilute Radiesse treatments include the neck and décolleté.  Typically 2-3 treatments are necessary and results can last up to a year.
Pricing
– Sculptra Spot: $850
– Full Face Sculptra (2 treatments): $3,000
– Full Face Sculptra (3 treatments): $4,200
– Full Face Sculptra (4 treatments): $5,400
– Sculptra maintain (every 1-2 year maintenance): $1,600
– Hyperdilute Radiesse Neck or Decollete (3 treatments): $2,300
https://www.sculptrausa.com/ & https://radiesse.com/about-radiesse/